Sailplanes
Late Model Ka-6E N53RA – Serial No. 4343. Fin-mounted TE probe, true-tracking tail wheel makes crosswind launches easy, panel mounted Icom A20 transceiver, Tasman 1000 variometer with audio, wiring for two switchable batteries. Polycoat paint in good condition, stored in a metal clamshell trailer in a hangar. All launches by aerotow.
Inspected July, 2015 by St. Croix Aircraft according to the BGA – Mandatory Aircraft Inspection for Schleicher gliders, Issue #4 dated February 6, 2015. No issues found. Last annual inspection July, 2015.Asking price: $9,900 with Colibri V3.0, Garmin 90 and cables; $9,700 excluding GPS units and cables. Located in Faribault, Minnesota. Total hours: 1,207, Empty weight: 439 lbs, Useful load: 232 lbs. Contact: Leon Zeug at 612-590-7157 or leonzeug@yahoo.com
Schweizer 1-23, s/n 14, mfg May 1950, Annual May 2016, includes open trailer and new canopy cover. Won vintage awards in 2000 and 2009 at IVSM. Located at Caesar Creek Soaring Club, near Cincinnati,Ohio. – $12,000. Phone: 513-673-7746, e-mail: bonsertom@aol.com
---
Two Schweizer TG-3A projects. Extremely rare. Only one TG-3A is known to be flying, which I rebuilt 15 years ago. Both include wings, ailerons, horizontals and extra parts. One is 100% complete. Other is 95% complete. Will sell as pair only. $13,500. Serious inquiries only; no museum gifting, please. Ron Tuttle, Eagleville TN, tuttleron@aol.com
---
1947 EON Olympia
, N470LY, previously owned by Bob Gaines. No trailer $6000. Dean Gradwell
<dean@xcsoaring.com>
or (541) 944-6446.
---
Slingsby Capstan T-49
for sale in excellent condition, two place side by side seating, 30-1, completely restored year 2000, enclosed trailer. Price:$20,000 Contact Dana Burns at
dncburns2@comcast.net
or 814-590-5366.
---
1960 Schleicher K4. 2200 TT. Rebuilt in 2000. CG hook,Basic instruments both cockpits. Nice and clean, fun to fly! Open trailer included. Ready to go. Always hangared. Tehachapi, CA.$6500. Ron Martin rpmartin48@yahoo.com or 661-205-1446.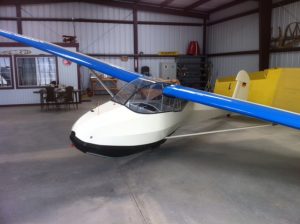 ---
Do You Need Help With Your Glider?
Forty-five years experience of building, restoring and inspecting wood aircraft. Borescope inspections of wooden wings as per British Gliding Association procedures. Annuals to full restorations. Chad Wille, A&P, I.A., St. Croix Aircraft, 1139 State Highway 148, Corning, IA 50841. (641) 322-4041 or stcroixair@frontiernet.net.
---
Classified Advertisements are provided free to VSA members. Vintage Sailplane related items only. To list your ad contact our webmaster: vontresc@gmail.com